In today's RAJAR industry radio survey release JACK Oxfordshire has gained a stunning 50% increase in total listening hours over the past 12 months*. JACKfm and JACK 2 are among the fastest growing commercial radio brands in the country!
Now just 4,000** listeners behind HEART (who broadcast into Oxford from Reading) and only 2,000** listeners behind BBC Radio 1 we are asking everyone in Oxfordshire to help JACK Oxfordshire become Christmas Number One!
Both JACKfm and JACK 2 Oxfordshire now reach over 120,000* people each week, delivering the Oxfordshire business a 23% reach across the county*. Trevor Marshall & Caroline Verdon - UK Presenters Of The Year at the 2015 Arqiva Awards - on JACKfm at Breakfast along with Rich Smith at Breakfast on JACK 2 are now commanding an impressive 5.8% share in the mornings.*
JACK 2 lets listeners control every song that gets played on the radio station 24 hours a day. Download the JACK 2 app and join the growing number of people controlling all the music on JACK 2.
Once you go JACK you never go back!
HEART FM in Oxfordshire must be having a Heart Attack!
We've never put a graph in one of our press releases before, but here's one worth seeing…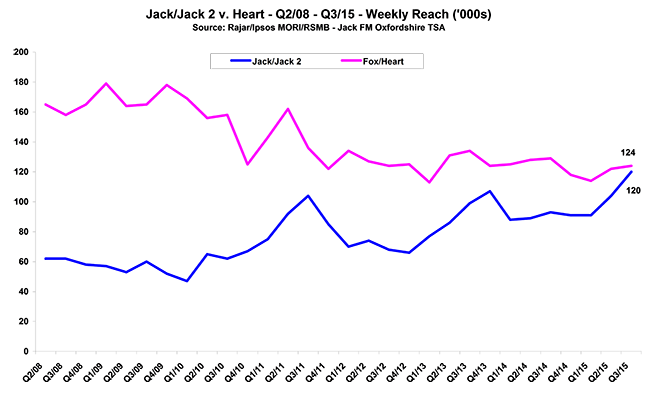 Tim Parker JACK's Programme Director said ".We've worked hard over the past year to focus the output of both JACKfm and JACK 2 to exactly what the audiences want. Both stations offer dramatically different propositions to listeners - today's results demonstrate that the people of Oxfordshire not only understand this but enjoy them more than ever. It's a great day here in the Dumpy Building and I'm proud of the small, yet record-breaking, team I work with. Here's to JACK being number one for Christmas!"
Ian Walker JACK's CEO said "As we head towards Christmas I am thrilled that our 2 local Oxford radio stations JACKfm and JACK 2 continue to titillate and satisfy all that discover our very unique entertainment brands. We have some of the most amazing evangelists both listening to JACKfm and JACK 2 and of course our advertising and commercial partners continue to enjoy great results from their partnerships with our radio stations. With our recent launches of JACKfm and JACK 2 into Surrey and Portsmouth on DAB – I am confident that the JACK UK story will continue to deliver more creative content across the UK and of course we are on course for making JACK Number One for Christmas in Oxfordshire".
For further information about JACKfm or JACK 2, contact Programme Director Tim Parker 01865 315980.
*RAJAR/IPSOS/MORI Q3 2015 15+ Year On Year
**RAJAR/IPSOS/MORI Q3 2015 15+ Q/Q