How to Control the Music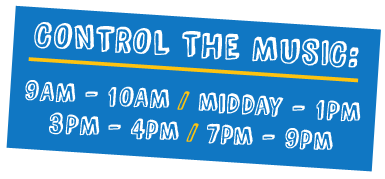 Want to control what plays next here on JACK 2? Well, you can every day!
Weekdays between 9am - 10am, midday - 1pm, 3pm - 4pm and 7pm - 9pm and weekends between 11am-1pm and 7pm-9pm YOU are the DJ.
Take a gander at our playlist and just by clicking on the up and down arrows, you can 'upvote' the songs YOU want to hear sooner, and 'downvote' into oblivion any tracks you're not so keen on.
You can even get your friends on board! Invite them to vote with you to cement into place your favourite songs that play on JACK 2, and take out those headaches which some people call music. Just share your song on Facebook and watch the votes fly in.
Dedicate a song to that special (or not so special) someone just by clicking the SEND DEDICATION button on the player. So easy, even your nan could do it.
You can also sign up to receive instant alerts when your favourite artists and songs are played! Opt to receive a text, e-mail or Twitter alert when an artist or song you like is about to play on air.
Are we missing a banger of a track from the playlist? Let us know! Simply suggest it to us on the
Control The Music
section of the website and we'll chuck it up there in no time!