Q&A with Steve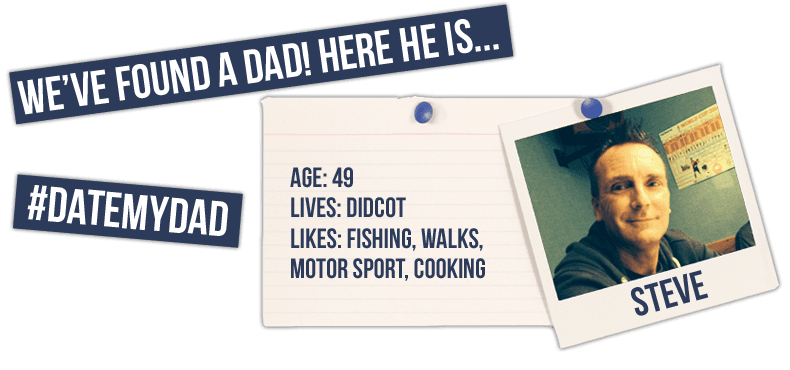 We decided to have a little sit down with Steve (Our dad) and ask him the important questions so you can get to know him a little better!
Why are you taking part in Date My Dad?
I haven't found the right person. Working two jobs doesn't give you much of a life and I'd like to change that. I miss the company, I have the kids full time but it would be nice to have some adult company - it would be nice to share my spare time with someone
What characteristics do you like in a lady?
I like people who like to laugh, and laugh at themselves too, someone who is spontaneous, who is outgoing and active. I'd like someone that I can have a proper conversation with.
How would your kids describe you?
Laid back, easy going & a great cook!
Name one thing on your bucket list
A world cruise; I like travelling. I love different cultures, people and architecture
Any turn-offs?
Heavy metal and Country & Western
Who is your celebrity crush?
Wynona Ryder
What's one of the nicest things you've done for someone?
I once went to Glasgow to surprise a girlfriend, but she was busy, so she only really had time to see me for a few hours, it was a great chance to check Glasgow out though!
And one of the nicest you've received?
A pair of deck shoes from my eldest - completely out of the blue. The kids keep trying to trend me up!
What is your pet peeve?
Rudeness. "There is rudeness, and there is RUDENESS"
What celebrities do you get mistaken for?
My friends think I look like Simon Cowell, mum thinks I look like David Beckham
(Trevor thinks he looks more like Nigel Kennedy and Rich & Caroline are leaning more towards Gary Rhodes)