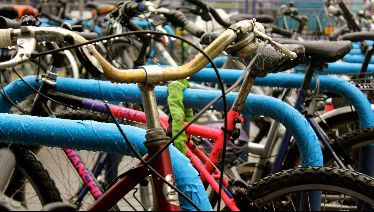 New crowd control measures have been put in place for this year's event.
May Morning sees thousands of people line High Street and Magdalen Bridge at 6am on May 1st to watch choristers sing from atop Magdalen College's Great Tower.
The event, which is unique to Oxford, has been taking place for more than 500 years.
This year though, Oxford City Council and event partners will implement a new one-way crowd flow system, which will prohibit people from stopping until they reach a designated area.
For the first time, bicycles will not be allowed to cross Magdalen Bridge during the event.
The Council's cultural development manager, Paula Redway, said: "We take crowd safety incredibly seriously and, following last year's May Morning, the City Council and event partners have been working hard to make sure that the crowd problems are not repeated.
"Magdalen Bridge will look different during this year's event, with signs, barriers and stewards directing people to keep the crowd flowing on the bridge. We ask that those wishing to attend make themselves aware of the new plans and follow instructions on the day."
Last year's event, which took place at the end of a Bank Holiday weekend, saw record-breaking crowds of 27,000 people attend, although crowd problems saw five people treated for minor injuries.