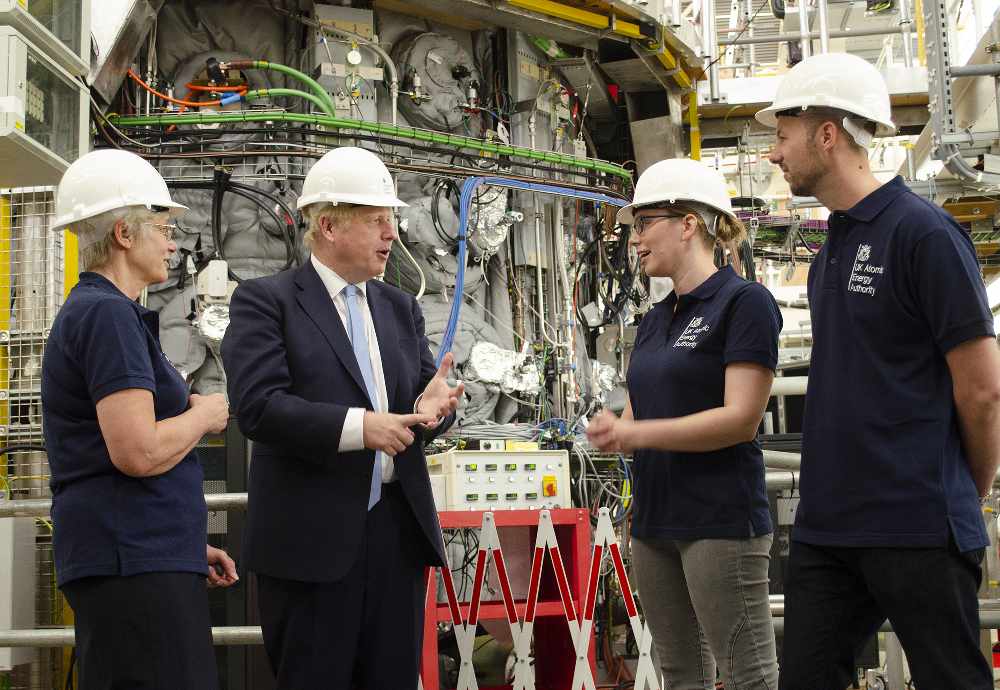 Courtesy of UKAEA
The Prime Minister also made an announcement about fast track visas for highly skilled scientists.
Johnson toured the UK Atomic Energy Authority, where scientists are working to harness the potential of nuclear fusion to be used as an energy source.
The visit marked the Government announcing plans to develop a fast-track visa route for highly skilled scientists to continue to move to the UK after Brexit.
Mr Johnson said the visa scheme will attract 'elite researchers and specialists in science, engineering and technology'.
He said: "What we want to see is a greater openness to top talent from around the world, particularly scientific top talent.
"So we're going to turn the UK into a supercharged magnet, drawing scientists like iron filings from around the world, to help push forward projects like this, in which we can take not just a scientific lead, but a commercial lead as well."
The Prime Minister also spoke to some of the UK Atomic Energy Authority's apprentices about plans for a new £12m apprentice training Centre, Oxfordshire Advanced Skills, opening in September on the Culham site.
Mr Johnson said afterwards: "It was fantastic to visit Culham Science Centre today and meet the men and women who are helping to invent a sustainable fusion reactor.
"The UK is leading the world in this sector, thanks in significant part to the work of the UK Atomic Energy Authority. I'm confident that with the help of the immigration reforms I have announced today, we will continue to do so for many years to come."
The MP for Oxford West and Abingdon, Liberal Democrat Layla Moran said "If Boris Johnson was serious about protecting Britain's place in the scientific world, he would stop pursuing a damaging no-deal Brexit that would end free movement, and back a People's Vote with the option to remain."
It was Mr Johnson's first official visit to the county as prime minister yesterday.
He also met party councillors and activists at Abingdon's at the Hilton Garden Inn hotel.
Witney's Robert Courts was the only Oxfordshire MP to attend the party event.
Deputy police and crime commissioner and Vale of White Horse councillor Matthew Barber tweeted a picture of himself shaking Mr Johnson's hand.
Pleased to welcome @BorisJohnson to Abingdon this morning. Continue to work closely on ensure @ThamesVP get their fair share of additional police officers from the 20,000 promised. pic.twitter.com/TSo2o68VVf

— Matthew Barber (@matthew_barber) August 8, 2019
📸 Another Prime Minster photo 😉

Thanks @BorisJohnson for joining local members whilst on a visit to #Oxfordshire this morning. #BackBoris pic.twitter.com/fG4PsXilUu

— Cllr Liam Walker (@_Liam_Walker_) August 8, 2019