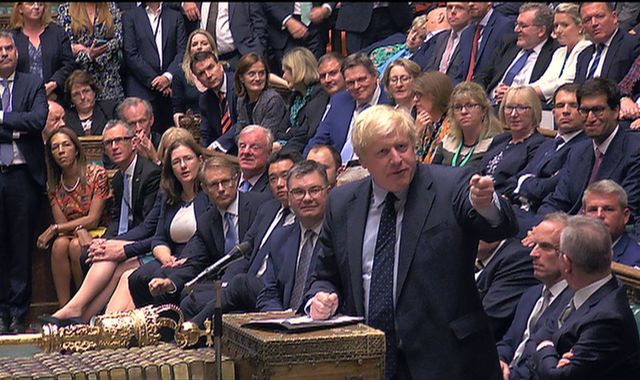 Ed Vaizey joined a cross-party group trying to delay Brexit to stop no deal next month.
They helped inflict defeat on Boris Johnson in his first major vote since taking over at Number 10, overriding a Commons rule that says only the government can propose new laws.
MPs voted by a majority of 27 to take control of the parliamentary agenda today in an attempt to pass a bill, to block a no deal scenario.
The group will use their chance to try to get the prime minister to ask Brussels to delay the Brexit deadline from 31 October to 31 January 2020 - a date the EU would ultimately be in charge of.
After last night's vote, Ed Vaizey says he's 'deeply saddened' to be sacked from the party - but will 'continue to work for the constituents of Wantage and Didcot as an independent Member of Parliament.'
In a statement, he added: "Last night I took the difficult decision to vote against the Government and my Party in a crucial motion designed to avoid a "no deal" Brexit.
"It is a decision I have been wrestling with for some days now, but I believe that this was the right thing to do."
Vaizey added: "I hope that this vote will make clear to the Government that there is no majority in Parliament for a "no deal" Brexit and they will now redouble their efforts to find an agreement with the European Union to deliver a sustainable and managed Brexit.
"I know that the Prime Minister would prefer an orderly Brexit and I wish him and his Government well in their attempts to deliver just that."
Vaizey has served as a Conservative MP for 14 years and says he will 'continue to align' himself with the values of the party.
Boris Johnson says he'll now seek to trigger a snap general election.
The PM needs two-thirds of the Commons to support that.
Philip Hammond is also among the 21 MP's who voted against orders last night and is effectively barred from standing at the next general election.
Springing to his feet to respond, the prime minister said parliament was "on the brink of wrecking any deal that we might have been able to strike with Brussels".
He insisted "I don't want an election" but if he is forced to try to delay no-deal tomorrow, "the public will have to choose" who should "take this country forward".
Jeremy Corbyn said he would support an election but only after the legislation has completed all the stages it needs to in parliament to "take no-deal off the table".
#vexit https://t.co/TICteneXIg

— Ed Vaizey (@edvaizey) September 3, 2019