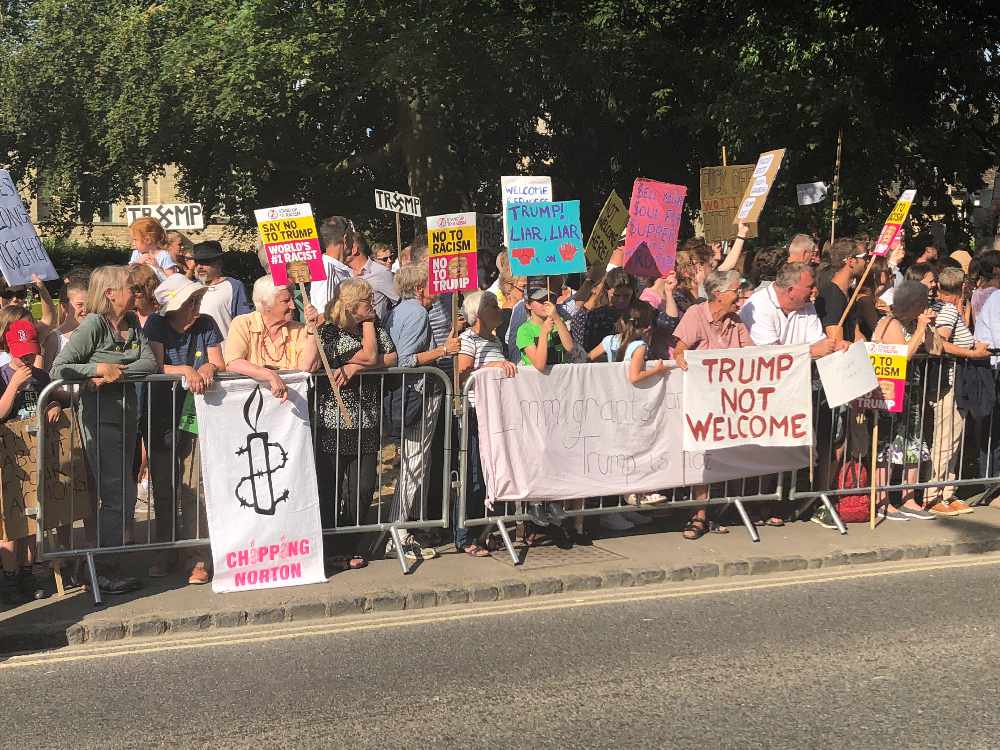 His trip to Blenheim Palace was met by large, noisy protests in July.
Thousands of officers were deployed to cover the presidential visit.
Roughly 300 were drafted in from across the country to line the gates of Blenheim, as Trump hosted a dinner at the stately home in Woodstock.
Around a thousand protesters gathered with home-made banners.
They booed all of the officials as they entered for the black-tie dinner at Winston Churchill's birthplace.
Guests included leaders of UK business sectors, such as financial services, travel, food and drink, tech and defence.
The UK visit resulted in the largest police mobilisation since the London riots of 2011, with Mr Trump swinging by four different force areas over the course of his stay.
NPCC chair Sara Thornton said: "Nearly every force supported the operation with nearly 10,000 officers deployed from all over the country, performing over 26,000 shifts.
"The full cost of the operation is still being worked out but an early estimate is nearly £18m."
That figure puts the security costs of the trip well above those incurred by either of the royal weddings this year, which required police in Windsor to ask the Home Office for extra money.
Between £2m and £4m is thought to have been spent on security when the Duke and Duchess of Sussex married, and another hefty bill will be wracked up when Princess Eugenie marries her fiance Jack Brooksbank on Friday.
Ms Thornton said police were in especially "high demand" at the time of the visit of Mr Trump, as it coincided with increased calls linked to the World Cup, hot weather, and numerous events and festivals.
"These demands affected local policing to differing degrees across the country with the host forces most impacted," the senior officer added.
"The majority of forces had to cancel officers' rest days and extend the length of their shifts.
"Despite the challenges, the hard work of officers and staff made sure that the public were kept safe throughout."
Mr Trump also held talks with Prime Minister Theresa May and enjoyed tea with the Queen at Windsor Castle during his stay.