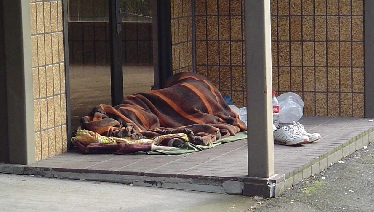 Groups have united in what organisers hope will be a turning point for the City's struggle.
The new unified group, called the Oxford Homeless Movement, is made up of charities, housing providers, the City Council, health providers, funding bodies, community-based organisations and businesses.
Street homelessness has been on the increase since the turn of the decade and hit record levels in 2017, including in Oxford.
The movement - which launches today - has already started introducing new measures including a website to link homeless people to groups and people that can help them avoid sleeping rough.
An advisory group has been created - made up of people who've slept on the streets before - and the OHM has penned a citywide charter can be signed by anyone online.
The charter is demanding that no one has to sleep rough on the streets of Oxford again.
"We're doing this properly, tackling the most difficult questions and trialling new approaches, led by people who have experienced this themselves." Said Nikki Aitchison, Programme Manager at Aspire Oxford.
Here's our interview with the new Oxford Homeless Movement Chair Jane Cranston:
The deputy leader of Oxford City Council Linda Smith said "We're doing more than ever before to prevent and reduce rough sleeping, including more beds and better assessment services to help people off the streets as quickly as possible. But the number of people experiencing homelessness is still too high.
"We have to undertake street counts every two months and what we're finding is that a quarter of people are new to the streets. We can't end homelessness on our own. We need Oxford to join us in the Movement and help beat homelessness together."
The Oxford Homeless Movement is marking today's launch at Open House on Little Clarendon Street on World Homeless Day, where partner organisations are announcing a raft of new, collaborative measures.