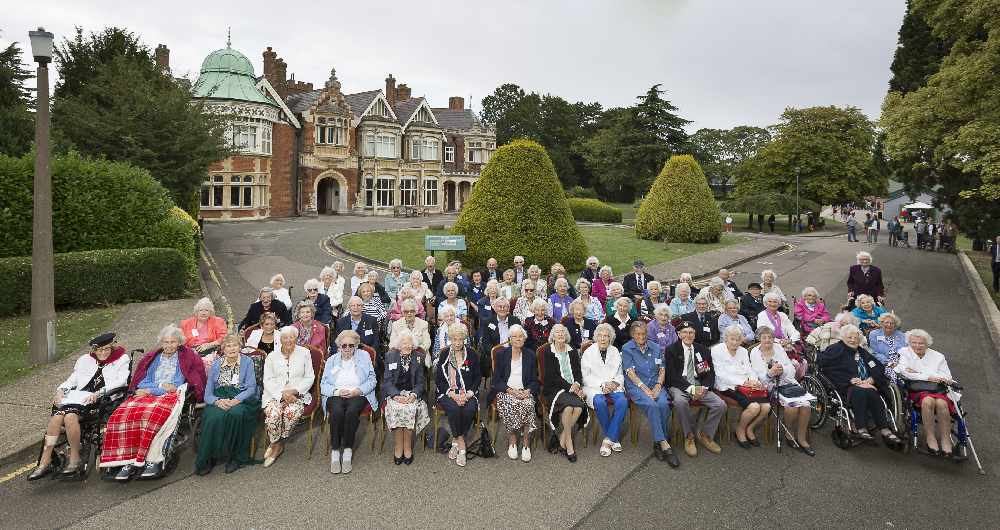 Veterans gather at Bletchley Park. Image credit: Bletchley Park/PA
It's 75 years since Arthur Maddocks, from Oxford, first worked in secret at Bletchley Park. 
Along with his many colleagues, he knew precious little about the vital effort he was making to shorten the Second World War.
Working on cipher machines in a part of the park's mansion called the Testery, the then-22-year-old watched in amazement as decoded German messages written by the likes of Hitler flooded into the room.
Now in his ninth decade, Mr Maddocks has returned to Bletchley Park, just outside Milton Keynes in Buckinghamshire.
Eighty veterans, accompanied by their families, gathered on Sunday to mark 80 years since the start of World War Two.
The 97-year-old, who worked as a wheel setter on some of the huge cryptography devices, recalled: "The Germans had a particular cipher machine called Lorenz which was basically a teletype machine.
"It had 12 wheels - Colossus (a set of early computers) was used to eliminate the first five, and then the remaining seven were tackled by Major Testers section.
"I was the very last bit of that tackling, and after I had done my job the stuff went next door where it was put on to a so-called Tunny machine... and out came the beautiful German text."

The rows of wooden huts in the mansion grounds at Bletchley housed 10,000 secret intelligence workers, who were not even permitted to tell their families what they were doing.
Mr Maddocks added: "It was part of the life at Bletchley [to keep work secret from friends, family and loved ones]."
He described the social aspects of the job, which they could dive into after a 48-hour working week, as "absolutely delightful".
The Bletchley veterans and their loved ones gathered outside the mansion on the site yesterday, for a group photograph after a flypast of a Lancaster bomber.
Iain Standen, who's Chief Executive of the Bletchley Park Trust Charity, said: "As a dwindling population it's great to have so many of them here.
"It's very important, they connect this place to what it was all about in the Second World War."