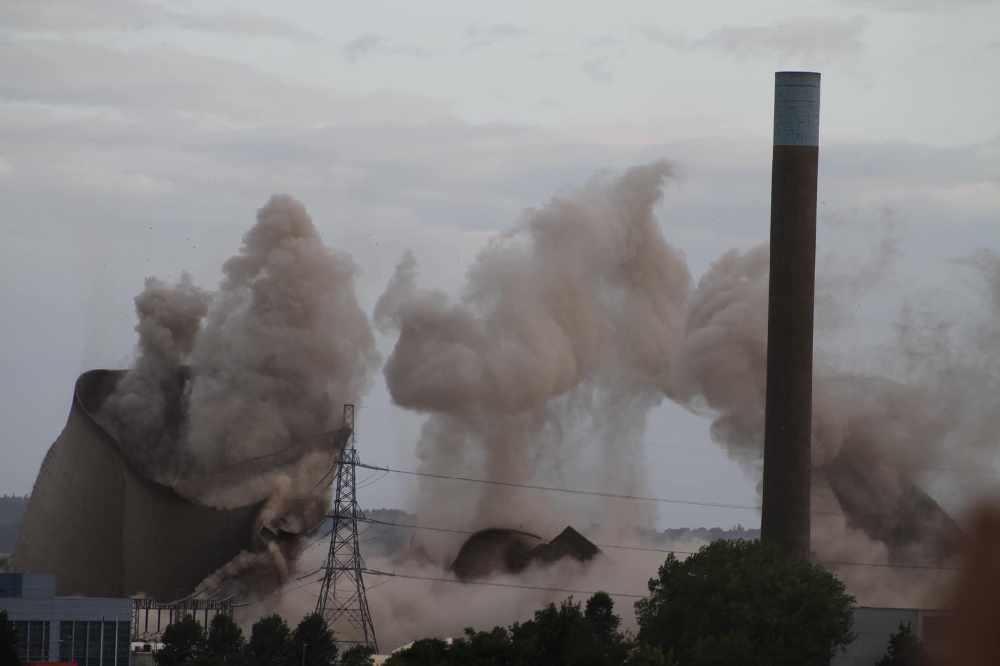 They crashed to the ground at 7am, with thousands watching.
The three remaining northern cooling towers at Didcot Power station have been demolished.
Since construction began on the towers in 1964 the 375-foot structures have been visible from across South Oxfordshire.
Now all that remains is the 650-foot main chimney which will be demolished at a later late.
The demolition was carried out by Browne and Mason and took place at 07:00 this morning.
An exclusion zone was set up around the site to protect everyone on site and in the local area.
Unfortunately for local residents though, the demolition then resulted in a power cut across parts of South Oxfordshire, affecting about 40,000 people.
SSEN told us that the problems were down to material striking its overhead electricity network.
The Energy firm also said it was aware of reports of minor injuries and damage caused by the incident.
Station owner, RWE, is investigating.
It said 'We have received the SSE statement on the power cut and we will look at this very carefully and further investigate what has exactly happened.'
Hundreds of people turned up at Wittenham Clumps to watch the action.
All gone! #DidcotDemolition pic.twitter.com/wTJKHuql0j

— JACK News (@jackfmnews) August 18, 2019
The coal-fired station was in service for 43 years and was switched off in 2013 and three of the six cooling towers were demolished a year later.
Tragedy struck the site when four men were killed in a collapse at the station's boiler house in February 2016, the building was demolished in July the same year.
Christopher Huxtable, 33, from Swansea, South Wales, Kenneth Cresswell, 57, and John Shaw, 61, both from Rotherham, South Yorkshire, and Michael Collings, 53, from Saltburn-by-the-Sea, Teesside, were killed at the disused plant.
A Thames Valley Police and Health and Safety Executive investigation is still ongoing.
Tiernan Foley RWE demolition project manager said, "We understand the power station has been part of the local community for over 48 years and for many people the demolition will mark a significant day for both Didcot and Oxfordshire.
"We would like to thank the local community for their support and all the people who have worked at the site."
Didcot Power Station: 3 Tower Demolition #1

Incredible angle of the demolition from us at Drone Motion, alongside CopterCaptures & Eyeup Aerial Solutions Ltd who were on site to film extra footage. Stay tuned, even more amazing clips to follow!

Posted by Drone Motion on Saturday, August 17, 2019
Sun is rising over Didcot and Harwell for the the soon to be demolished cooling towers... Childhood memories #photography #rhorho #adventuresofrhorho #earlystart #didcot @BrownandMason pic.twitter.com/rHOhLm3l5y

— RhoRho 📸 Photography (@RhoRhoPhotos) August 18, 2019
Didcot won't be Didcot without its power station cooling towers.
How will we know we're arriving home now. 😭 pic.twitter.com/4u3mYqCNc1

— Alexandrine Kántor 🔶 (@Alexa_Kantor) August 18, 2019