Dig Deep for Homeless Oxfordshire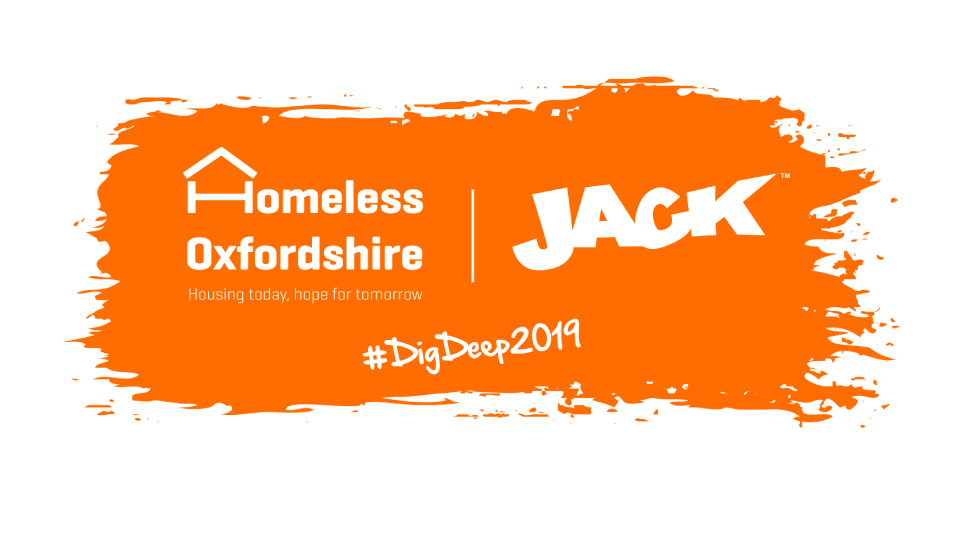 What's happening?
We're putting our hands in our pockets, having a rummage and giving what we can - all to support the wonderful work that Homeless Oxfordshire do in our county.
On both Thursday 3rd and Friday 4th October, we're going to be live for 12 hours a day at O'Hanlon House in Oxford's city centre for #DigDeep2019.
Real people who are dealing with homelessness have courageously shared their stories and journeys with us. We want to break down some of the stigma surrounding this highly emotive issue by looking at the many complex reasons that can lead someone to seek support from Homeless Oxfordshire.
The number of rough sleepers in Oxford has increased 400% since 2012*. It's impossible to ignore the homelessness crisis that can be seen daily on our streets - not just here, but across the country.
Homeless Oxfordshire provides crucial survival needs, such as accommodation for over 200 people a night and serving up 75,000 meals every single year. Through 10 innovative projects, the charity delivers the person-centred support people need to recover from homelessness.
With over 30 years' experience, Homeless Oxfordshire uses its expertise to influence public provision and policy by highlighting the social impact of its work.
Support JACK's Dig Deep 2019 and Homeless Oxfordshire to help make a lasting change.
Let's work together to support people out of homelessness for good.
*Housing and Homelessness Strategy 2018 - 2021, Oxford City Council

Dig Deep 2019 will takeover JACKfm for 12 hours a day 7am-7pm on the Thursday 3rd and Friday 4th October.
We'll be stripping out all our commercial advertising during this period to focus entirely on #DigDeep2019.
Over the course of the two days, we'll be interviewing lots of people and sharing their stories on the radio and across our social media.
We'll be using these stories to amplify the voices of those Homeless Oxfordshire support, breaking down the stigma surrounding homelessness and demonstrating the life-changing impact donations can make... we have a real goal of generating a large level of donations and future support for Homelessness Oxfordshire.
To facilitate us in the preparation and delivery of the Radiothon we're talking to business supporters who will see the value in associating themselves with this project and thus gain heavy levels of branding and radio coverage on the JACK stations across Oxfordshire as one of the official corporate supporters.

• Sponsor Dig Deep 2019 and you will be recognised as a main supporter of JACK's Radiothon 2019.
• There are 6 headline support opportunities available - you'll have exclusivity within your sector.
• Each organisation will sponsor a 4-hour period:
Day 1 (7am - 11am) Day 1 (11am - 3pm) Day 1 (3pm - 7pm)
Day 2 (7am - 11am) Day 2 (11am - 3pm) Day 3 (3pm - 7pm)
• Each supporter will be credited on 14 days of pre-promotional activity on JACKfm, JACK 2 Hits and JACK 3 & Chill.
• On the day, a minimum of four sponsor credits will be delivered per hour of the Radiothon - minimum of 16 credits.
• You'll be credited in all PR activity surrounding the event and on all website and social media activity in the form of logo presence.

• Credits for each corporate support will be delivered at least 24 times across the 24 day pre-promotional phase (9th September - 2nd October)
• In total, all Radiothon pre-promotion will be heard by 112,000** people in Oxfordshire an average of 9.6** times each.
• Your credits will be broadcast on both JACKfm, JACK 2 Hits and JACK 3 & Chill during pre-promotion and until 9am on each day of live Radiothon.
• Live Radiothon coverage will continue on JACKfm only after 9am with cross promotion on JACK 2 Hits and JACK 3 & Chill.
SPONSOR INVESTMENT: £2,000 + VAT
Sponsors are welcome to take multiple time slots if desired.
**Source: RAJAR/IPSOS MORI Q4 2018

• Two times per day we'll be running a Power Hour - 60 minutes where we put an even greater emphasis on driving donations to Homeless Oxfordshire.
• Across this hour your business will be credited four times.
• The Power Hour mechanic can take two forms:
Match funding - you match all donations made within the hour.
OR
You double your donation - if X number of donations are received within the hour then you'll double your donation
• A suggested donation would be £500 - doubled to £1,000
Have a peak at what we got up to last year with Helen and Douglas House.
Interested? Give us a call on 01865 315 980 or drop us an email at jack@jackfm.co.uk