RAJAR Q4 2015

JACK OXFORDSHIRE – The #1 Local Commercial Radio Station Broadcasting from Oxfordshire!
In today's RAJAR industry radio survey release JACK Oxfordshire has recorded its BEST EVER listening figures. Across the past 12 months JACK and JACK 2 have recorded an exceptional 35% increase in total audience reach with total listening hours now at an all-time record of 820,000 hours*. JACKfm and JACK 2 are amongst the fastest growing commercial radio brands in the country!
In a stunning result, JACK Oxfordshire has overtaken BBC RADIO 1 in Oxfordshire, now thrashing this national radio station in both Reach, Hours and Market Share! JACK Oxfordshire is now 20,000 weekly listeners ahead of BBC Radio1.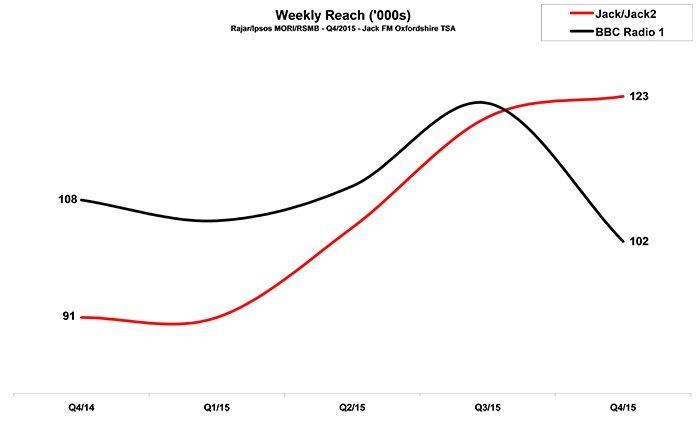 JACKfm and JACK 2 Oxfordshire reach over 123,000* people each week, delivering the Oxfordshire business a 24% reach across the county*. Trevor Marshall & Caroline Verdon UK Presenters Of The Year at the 2015 Arqiva Awards on JACKfm at Breakfast along with Rich Smith at Breakfast on JACK 2 are now commanding an impressive 6.6% share in the mornings*
JACK 2 has again increased its weekly audience, commanding its BEST EVER weekly reach number, since the license was awarded nearly 20 years ago with a 44% year on year increase in audience.
JACK 2 lets listeners control every song that gets played on the radio station 24 hours a day. Each month JACK 2 generates over 600,000 votes for songs every month. Download the JACK 2 app and join the growing number of people controlling all the music on JACK 2.
Once you go JACK you never go back!
Tim Parker JACK's Programme Director said
"Once again a stunning set of results! We're so pleased the people of Oxfordshire are enjoying both JACK and JACK2. The team here have a great time putting together two very different radio stations. JACKfm is cheeky, playful and bold in claiming to own ALL 80's music! JACK 2 being more accommodating lets listeners choose every song - the only radio station in the UK to do this!
Ian Walker JACK's CEO said
"I am absolutely thrilled that Oxfordshire loves JACK! Our award winning creative team delivers industry excellence alongside our cutting edge technology allowing listeners to choose all the songs on JACK 2 straight from their mobile device! Our advertisers are loving the flexibility to work across both of our brands and we have just achieved the BEST EVER listening results in the company's trading history – what a great way to start 2016. Thanks to all our listeners and advertisers for choosing JACK and JACK2 and we promise to pull a few more rabbits out of the hat across the coming year!"
For further information about JACKfm or JACK 2, contact Programme Director Tim Parker 01865 315980.
*RAJAR/IPSOS/MORI Q4 2015 15+ Year on Year