RAJAR Q4 2016

It was no fluke! Oxfordshire's JACK and JACK 2 remains the #1 commercial radio brand across Oxfordshire………
JACK and JACK 2 are again Oxfordshire's NUMBER ONE commercial radio brand. Since launching JACK in October 2007, JACK has brought a new, fresh and dynamic listening experience to commercial radio – with a twist! JACK Oxfordshire has just recorded its highest EVER listening figures since launch. The RAJAR results released today show:
The Highest ever JACK Oxfordshire weekly reach jumping to 130,000 weekly listeners thumping Heart Thames Valley at 112,000 listeners.
JACK Oxfordshire now has 18,000 more weekly listeners then Heart.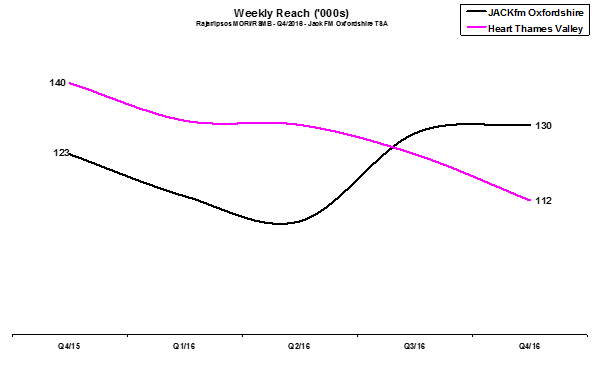 JACK since launch has become the UK's most awarded local commercial radio station EVER! JACK is known for its honesty, fun persona, quirkiness, irreverence but most of all its love of Oxfordshire. JACK2 has captured the imagination of Oxfordshire, where the radio station allows every song that is played on air to be chosen by its audience using the JACK2 app.
Across the past twelve months JACK and JACK 2 have recorded impressive growth in weekly listeners (Reach), whilst HEART has seen a y/y decrease in audience of 20%.
Tim Parker – JACK's Programme Director said:
"Well, clearly it is no fluke! JACK number one again. Strong results from an incredible team here at the Dumpy Building. We have such a great time producing the programmes we broadcast. It's so nice to have more and more listeners playing along with the JACK brand when all around us at other radio stations listener involvement is on the decline".
Hamish Law – JACK's Sales Manager said:
"Here at JACK and JACK 2 we take immense pride in delivering bespoke creative solutions that really work for our commercial partners. Today's result, showing that JACK and JACK 2 have maintained its commercial radio market leading position in Oxfordshire will allow us to further forge closer alliances with local business owners who understand that growing their business is a lot easier with a media brand that is actually located in their county. Being local is so important to our clients. Our strategy is always putting local first. Thank you Oxfordshire for trusting JACK and JACK 2 as your favourite local commercial radio stations".
For further information about JACK or JACK2, please contact Programme Director Tim Parker on 01865 315980.
*All figures quoted are All Adults 15+ within JACKfm/JACK2 TSA
*Source: RAJAR Ipsos MORI/RSMB Q4/15 – Q4/16
---
Notes:
The JACK UK radio business includes JACKfm (Playing what we went), JACK2 (Playing what you want) and Union JACK (Playing the best of British).
JACK and JACK2 currently broadcast on FM/DAB throughout Oxfordshire and on DAB throughout Surrey and Portsmouth.
Union JACK is a new national DAB service which launched on 9th September 2016. All of its music is chosen by listeners through the Union JACK app or online (www.unionjack.co.uk). It's the most exciting brand to launch nationally in years and has already received over 2,000,000 votes for songs from its listeners.
Ends